FingerScan
1.1
FingerScan lets you turn your Palm into hi-tech looking fingerprint scanner, and impress your friends!
Last update
20 Mar. 2006
Licence
Free to try |

$4.98
OS Support
Mobile
Downloads
Total: 3,826 | Last week: 1
Ranking
#49 in Entertainment
Publisher
Nov@ Soft
FingerScan Publisher's Description
FingerScan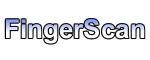 How many times did you want to impress your friends with your Palm?
There are certainly many ways to do that, since Palm OS handhelds are great gadgets, but wouldn't they look FAR better if they appeared to have some more hi-tech features, such as built-in fingerprint scanner? That is exactly what FingerScan does.
FingerScan is simple, yet sophisticated application that lets you turn your Palm into expensive-looking, hi-tech device, by mimicking the appearance of expensive fingerprint scanners.
The way that FingerScan works is quite simple - yet very effective!
When the application is launched, user is asked to place his finger on the screen, in order to perform biometric fingerprint scan. After the fingerprint is scanned, application seemingly starts to analyze the collected data. The analysis result will, however, always tell that the retrieved fingerprint didn't match the one in the database, and that the user doesn't have the proper authorization to access the handheld computer. So, how to bypass the scan? Simply, few seconds before the scan, distract your friends, and secretly press the scroll up/down button. Voilla - your fingerprint is the right one - you have gained access to your Palm!
Sounds complicated? Of course it's not! Take a look at few screenshots below, or even better, download the demo!
FingerScan was designed with single objective in mind -- to keep the users truly satisfied! Although there are some similar applications on the market, FingerScan has proven to be superior - here are just some of its' features:
Realistic, professionally designed GUI

Rich animations

Color support

Compact size

High-resolution support

Standalone ? requires no additional components

Button lock ? to make FingerScan look even more realistic as a security software, it is impossible to bypass the scan by simply pressing hard/soft buttons and exiting the application

High run speed even on old devices

Easter-eggs are included :-)
There are, of course, many other features that are hard to describe ? download the demo and try them yourself!
Restrictions of the demo version include:
You can exit the application by simply pressing the Home button.

?DEMO' label appears on the main screen

No Easter-Eggs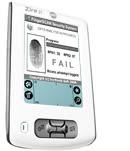 Whether you have the newest Palm OS handheld featuring high-resolution screen with thousands of colors, or older, low-res grayscale devices ? FingerScan will run smoothly on your device.

If you have any questions/comments, please feel free to contact us at any time at marconni@cg.yu - we'll be more than glad to help!
Look for Similar Items by Category
Feedback